Products
Peter Millar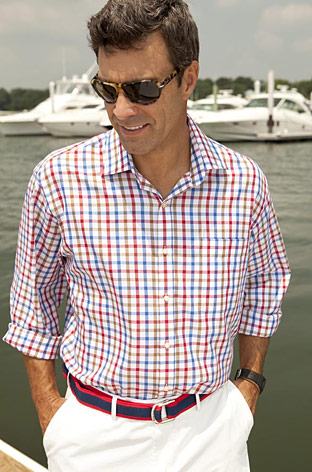 Founded in 2001, the Peter Millar line of fine clothing and accessories has become in just a few short years the standard bearer for discerning and demanding individuals — on the golf course, in the office, and on the town. From the original, signature cashmere sweaters to a wide range of casual and formal wear, the Peter Millar line embraces a classic, old-world style resplendent in fine detail, superb craftsmanship, and only the highest quality materials available.
Known for a broad color palatte, Peter Millar offers everything from sweaters, woven sport shirts, knit golf and polo shirts, tailored clothing, outerwear, footwear, and accessories. With products made from the finest quality materials and unparalleled construction, Peter Millar maintains a focus on classic style and design, offering affordable elegance with sophisticated apparel and accessories.
Headquartered in Cary, North Carolina, Peter Millar is one of today's fastest growing and most sought after brands in the lifestyle apparel market. Peter Millar clothes and accessories are available in the finest specialty retail stores, prestigious resorts, and most exclusive country clubs. Our global distribution includes North America, Europe, Asia, Australia and the South Pacific.
A store for all seasons, call Haberdapper to order
and ship the items you want all year round!
{262} 248-7700