Products
Allen Edmonds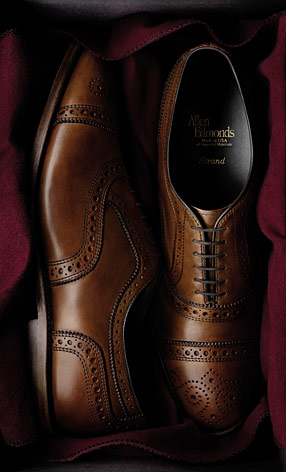 As the trend to move U.S. manufacturing jobs offshore in response to rising costs continued, Allen Edmonds resisted. Instead, Allen Edmonds invested millions to modernize its US manufacturing facilities. From classic to contemporary, Allen Edmonds shoes reflect an American Classic design philosophy that contributes to timeless elegance and enduring style. Attention to detail and sleek silhouettes provide sophisticated appeal to our most recently introduced styles. Casual sophistication combines with practical comfort in the Allen Edmonds Casual Collection. For styles that transcend time, look no further than Allen Edmonds' exquisite collection of leather-bottom dress shoes. With sizes from 6 to 16 and widths available from a 3A to a 3E, we are certain that there is an Allen Edmonds shoe to fit just about anyone. But don't take our word for it, try a pair for yourself!
Put new spring in your step by calling Steve
to help you find that "just right" pair of shoes.
{262} 248-7700